Who we are
The musicians behind DECADENCE are 'Metallic' Kitty Saric and Kenneth Lantz.
She is behind the Decadence Underground Network. He is behind The Sound.
Characteristics: Extreme female vocals, full DIY management, distinct sound and dynamic live performances.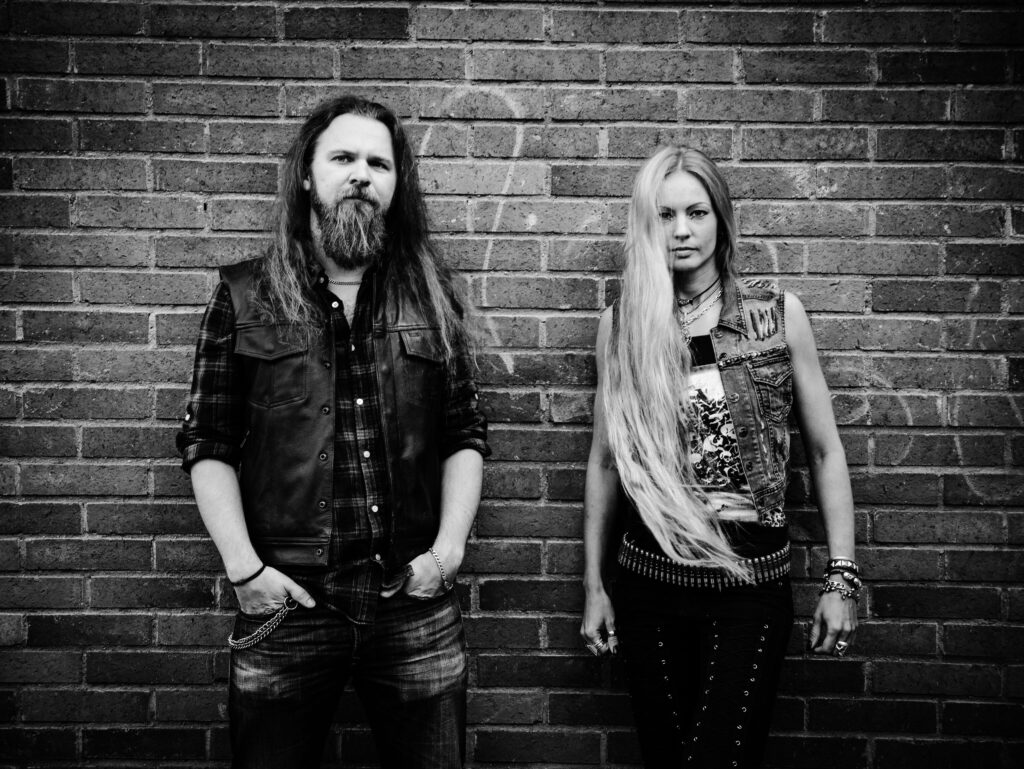 History
2003
16 year old guitarist 'Metallic' Kitty Saric is asked to try for vocals in a new project, that she came to name DECADENCE. It consisted of guitarists Christian Lindholm and Niclas Rådberg and drummer Peter Lindqvist. Long time friend, and then 19 year old, Kenneth Lantz often followed her to band practice and became session bass player. Up until then, he and 'Metallic' Kitty Saric had recorded songs together for fun and created demos under the name METAL STRIKE. Some riffs were kept from that time and were released on future DECADENCE albums.
2004
DECADENCE completes their first garage demo, 'LAND OF DESPAIR', produced by Kenneth Lantz. Drummer Peter Lindqvist had laid down the drum tracks but decided to leave DECADENCE to focus on his other bands and was replaced Patrik Frögéli.  Soon thereafter, guitarist Christian Lindholm was to join the military service and it caused a division in the band. When DECADENCE parted ways with both guitarists, Kenneth Lantz joined the band as the new lead guitarist. He quit his longtime band DEMENTED and put DECADENCE on a higher priority level as a permanent member. Before the end of the year, bass player Roberto Vacchi Segerlund and guitarist Mikael Sjölund had completed the line-up.
2005
DECADENCE releases two full-length albums. During the first quarter of the year, the first album, self titled 'DECADENCE' is released. Produced by Kenneth Lantz and Emil Holmgren. It was a success for the band and the gigs started flowing. Two months later DECADENCE had their first big concert that is now considered their debut.  It was a successful, self-financed and self-organized show which left its impression on the band and their future. This was the year when the name was brought up to the public and the word started spreading about the band. After almost a year's gigging and touring DECADENCE updated the line-up. The newest members visions did not match and was causing conflict within the band. After the summer tour in 2005, 'Metallic' Kitty Saric had gotten health issues due to the stress caused by the conflicts. She took the radical decision to replace the guitarist, bass player and drummer by bass player Joakim Antman, drummer Erik Röjås and guitarist Daniel Green to stabilize the band. This solid line-up gave DECADENCE the strength needed to move forward. During the third quarter of the year, DECADENCE completed yet another album, their second full-length, entitled 'THE CREATURE'. The album followed an endorsement by ILT/ESP Guitars & Basses.
2006
DECADENCE officially announces their signing to 'Metallic' Kitty Saric's newly started indie record label HTI RECORDS and completes their third full-length album entitled '3RD STAGE OF DECAY', produced by Kenneth Lantz. The title symbolizes the band's third and strongest line-up. DECADENCE decided to grow stronger as a solid quartet and play with session guitarist Ulf Sörman for the upcoming shows as guitarist Daniel Green had parted ways right before the recording,
2007
HTI RECORDS licenses '3RD STAGE OF DECAY' (2nd edition) to the Japanese label SPIRITUAL BEAST and gain full Asian distribution through UNIVERSAL JAPAN. This was the first time that DECADENCE music started to seriously spread even further than the Underground which had been its home up until then. EARACHE RECORDS showed interest in DECADENCE and used the track 'CORROSION' from '3RD STAGE OF DECAY' on their 2007 "Best of New School Thrash Metal" compilation 'THRASHING LIKE A MANIAC' and shortly thereafter DECADENCE is granted a future license to MASSACRE RECORDS for worldwide distribution of '3RD STAGE OF DECAY (3rd edition of the album). DECADENCE SWEDEN® becomes a registered trademark. A DECADENCE Street Team network forms worldwide by fans. Guitarist Simon Galle joins DECADENCE.
2008
The 'METALLIC KITTY – ACTION FIGURE' is created in Japan by MIHO & KISAKINO. The recording for the next-coming album  begun. The release was planned in 2008 but since MASSACRE RECORDS had just re-released '3RD STAGE OF DECAY', they postponed the new album's release. Guitarist Simon Galle parts ways with DECADENCE to pursue a bicycling career.
2009
The next-coming album is in the recording process. Kenneth Lantz records all guitars (as on '3RD STAGE OF DECAY' and 'THE CREATURE') and went on producing the album. DECADENCE had success in Japan since '3RD STAGE OF DECAY's second release by SPIRITUAL BEAST and as MASSACRE RECORDS would not respond to DECADENCE request to release the new album in 2009 either, the band decided to make the official release in Japan instead. DECADENCE records their first ever music video, produced by Helena Starenby with an endorsement by STUDIEFRÄMJANDET. The new album's name 'CHARGEPOINT' is revealed and 'Metallic' Kitty Saric travels to Japan for promotion of the album. Guitarist Niklas Skogqvist joins DECADENCE.
2010
DECADENCE travels to Venezuela for their biggest yet concert. It became a stunning summing up of the closing in of a decade of the band's history.
2011
DECADENCE releases the single 'VULTURE' for FEMME METAL RECORDS special compilation album 'MELODY AND MALICE'. The profits from the sales were donated to charity; National Society for the Prevention of Cruelty to Children (NSPCC).
2012
DECADENCE starts writing new songs for the band's fifth album. Although, the band was beginning to feel tired after many years of hard work.
2013
DECADENCE officially comes to a halt to get some well-deserved rest.
2014
The artwork for DECADENCE next-coming album is created and a song-writing process is in motion.
2015
'Metallic' Kitty Saric renames HTI RECORDS and the new name becomes HEAVY DOSE, named after DECADENCE first ever single. The word "Records" is removed from the name to further enhance the fact that DECADENCE never worked with record labels in an ordinary manner.
2016
DECADENCE announces reunion and reveals a fifth album. Powered by its two song writers who have been writing music together for over 15 years. 'Metallic' Kitty Saric and Kenneth Lantz return to form the new DECADENCE. Kicking off with a full-length album named after who they consider themselves to be. And who they consider their fans to be and presents 'UNDERGROUNDER' (release in January 2017). Session drummer Lawrence Dinamarca (NIGHTRAGE /LOCH VOSTOK /CARNAL FORGE) laid down the drums tracks. Earlier the same year, 'Metallic' Kitty Saric releases a solo single 'LITTLE THUNDER' for female Muay Thai fighter Josefine 'Little Thunder' Lindgren Knutsson that became the entrance song to her fights.
2017
DECADENCE releases 'UNDERGROUNDER'. Starting off as lyric music videos free for share on YouTube and continues to a digital- and physical release under HEAVY DOSE.
2018
To show support for other Underground acts, the single 'MANIFESTO' off 'UNDERGROUNDER' is added to the tracklist on Brazilian agency IMPERATIVE MUSIC's release 'GLOBAL COMPILATION ALBUM vol 15'.
2019
After delivering the long-awaited reunion on 2017's 'UNDERGROUNDER', Decadence drop their follow-up for 2019 'SIX TAPE' that marks their sixth full-length in their 16 years.